Build-a-burgers, 9/11, JFK, Father John Misty is like absolutely no one that has ever happened, despite the fact that one could conceivably re-press his 2012 album 'Fear Fun' on a CD-R, give it to your grandpa, and tell him it was a band that he neglected to listen t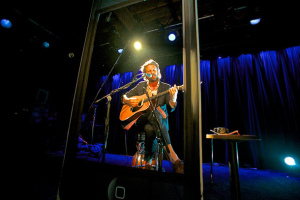 o in the heat of the Vietnam era, like the Velvet Underground, or some other sleazed-out, coked-up fantasy of a band.  His name is actually, regrettably, Josh Tillman, former drummer for Fleet Foxes, along with a compendium of dark solo albums released since the early 2000's.  Him and his photographer wife Emma Tillman are tearing up the scene, riding into town in their hearse banging out tunes analogous to a 1970's blues revival garage band.  He is, decidedly, the greatest person you've ever met.  Instantly, one is met with irony, humor, and sarcastic melancholy in all of his songs, as well as the novel that he wrote and put in the liner notes of the aforesaid 'Fear Fun', there's no having a truly bad time with him, but you can tell, all the time, that he's hurting.
He is currently crafting a new album and a new book, in which he describes the plot: "It's about this couple named Charles and Agnes Brimley, and Charles is an author writing this book about a herd of post-apocalyptic chihuahuas.  They go to Salt Lake City, walk by a funeral home, impersonate another couple, and order a '69' casket for themselves—a casket that you can 69 in. While Charles is writing his book, he gets into the casket and realizes that the voice of God is in there, and God's name is Josh Tillman, and Josh Tillman divulges the secrets of Charles' universe. I really like how the book is going so far."  And his new album seems to be coming along swimmingly with new songs popping up on YouTube every day.
Comments
comments