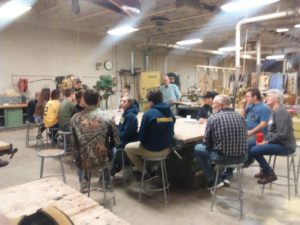 For Student Challenge, Everett Smith taught a lesson about different paths people take on their life journey and how to get on the right one.
   Student Challenge takes place in the woodshop room, also known as C-14. It is weekly on Thursdays, starting at 7:15 a.m. and lasting until 7:50 a.m.
   This lesson is being taught using the Parable of the Sower (Luke 8:4-15) to help the students understand that if they are on the wrong path for their relationship with Christ then they can get on the right one; it is never too late.
   This lesson is being taught to impact all students on their walk with God, and is being taught because it will allow them to recognize the path that they are on, and if it needs to be changed.
   Abigail Hills said, "Any student can apply themselves to this message."
   This shows that Student Challenge can be for anyone of any cultural religion or denomination, because it appeals to all, not to just one person. It also shows that Student Challenge is the perfect place to start a walk with Christ.
Comments
comments