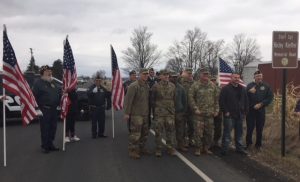 Dec. 7, 2018, VFW Post 8964 and American Legion Post  502 dedicated Memorial Road Signs on Colony and Hollister roads for two OE alum who died serving their country in Vietnam and the Persian Gulf War.
These solders were PFC Benny Sloat, killed in Vietnam, and SSG Ricky Kieffer, killed in the Persian Gulf War. VFW Post Comnander Leonard Huyck, said he got the idea to propose a memorial road to honor these men after overhearing a conversation at an Ovid-Elsie football game in September. He said the memorial signs are the first of their kind in the state of Michigan.  The state has recognized highways as memorials to fallen soldiers, but not county roads.
The ceremony took place Dec. 7 inside the OE High School auditorium at 1 p.m. In attendance were members of the Sloat and Kieffer families, who accepted special awards and scholarships, and guest speakers State Rep. Ben Frederick, Michigan Sen. Rick Jones, State Rep. Tom Barret and Maj. Gen. Michael Stone of the Michigan National Guard.  Also in attendance were members of Mr. Kieffer's unit, the 182nd Field Artillary Regiment, Gene Nethaway, commander of Elsie American Legion Post 502, School District Superintendent Ryan Cunningham, Ovid Mayor Bill Lasher, Ovid Police Chief Al Goodrich, Elsie Village President Tom Fink,  other veterans and residents.
Following the 40-minute ceremony in the auditorium, VFW and American Legion Post members adjourned outside for the unveiling of the two road signs on Colony and Hollister roads.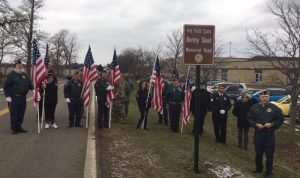 Comments
comments