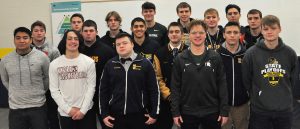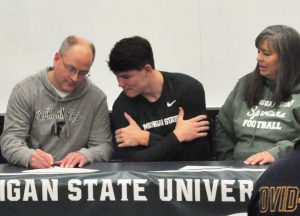 On Dec. 19th, a small gathering in the Ovid-Elsie High School Student lounge honored Ovid-Elsie's football athletes.  The entire varsity football team was named All Academic State Division First Team. One of those team members also signed a letter of intent to play football for Michigan State University.
         A few special awards went out, following a banquet on the other day, One to Liam Thompson for Defensive MVP, Evan Morris for Offensive MVP, and Jakob Loynes for Best teammate.
The entire Ovid-Elsie 2018 Varsity team was awarded with the 2018 Team Academic All-State for Division 5. These students are Evan Morris, Logan Del Bosque, Jakob Loynes, Devin Kora, Shayne Loynes, Aaron Hurst, Kyren Henning, Justin Moore, Bryce Dolan, Cooper Beard, Liam Thompson, Zach Miller, Cayleb Carman, Colton Sutliff, Chandler Barber, Eric Perry, Zach Rambo, Cayden Flynn, Noah Price-Jolly, Dirk Taylor, Justin Hammond, D.J Hammond, Jacob Darling, Kameron Arnett, Cameron Schneider, Devon Stringhum, Joe Fabus, Jackson Thorton, J.R Ackles, and Luis Johnson. The top 11 students averaging a 3.94 GPA.
Another award went out to Jakob Loynes, after he was named to the 2018 Individual Academic All-State Division 5-6 First team, Jakob being our very first 1st teamer!
In 2016, the movie "Greater" was released, honoring the extraordinary football player Brandon Burlsworth who became an All-American and a NFL player, who later unfortunately died in a car accident in April 1999. To honor Burlsworth, his family made an award names Burlsworth Character Award, meant to be given to High School football players around the country for outstanding character and sportsmanship. Coach Longstreth awarded the Burlsworth Character Award to Cayleb Carman.
         In a separate ceremony, senior Evan Morris signed a letter of intent to play football with Michigan State University.
"I've never been around someone who can kick and punt a ball like he does." Coach Long said about Morris, who signed a letter of intent to play football with Michigan State University, due to his athletic abilities. "What separated Evan from others who may have the same amount of talent or more," Long continued, "is his willingness to go the extra mile." Coach Long continued to talk about Morris, and his amazing football abilities, and the amazing things he has done. "I remember talking with him on a few occasions and he would start talking about the ins and outs of punting the football. How to hold the ball, the angle of your drop, the little things." coach said with pride, "I was amazed at how detailed he was." This was not the only time Morris had amazed Coach Long."When he was a sophomore against MLS, we told him to punt the ball out of bounds because MLS's punt returner was really good- he wound up punting that ball about 50 yards… the only thing was it was about 50 yards out of bounds and into someones backyard for about a 10 yard punt."
This wasn't the only time Morris had impressed the coach and his team, "during practice this fall, it was a windy Thursday practice, and he was punting the ball out of the north end zone," the coach continued saying how the ball would go so far up into the air, so many people would just look in awe, "and I'm not exactly sure where it landed but that ball rolled out of bounds around the four-yard lane on the south end." Coach Long said with joy, "Evan – Congratulations! I think I speak for all of us by saying we can't wait to watch you develop as a D1 college athlete. Spartans are getting a good one." Coach finished proudly.
Morris thanked a few people for being there for him, helping him, and watching him grow throughout his football career before officially signing his letter of intent, saying how his family had always loved the Spartans, "it has been a big dream of mine."
Once the awards were given out, and Morris had proudly signed the signed the letter of intent, photos were taken with family members and friends, to remember such an amazing moment for both Morris, and all his fellow teammates.
Comments
comments