Hocus Pocus 2 Remakes Original Film from 1993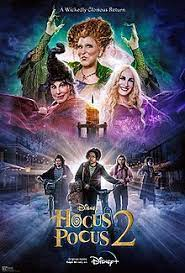 Hocus Pocus 2 came out Sept. 30th 2022, on Disney Plus it is rated PG it is a remake of the original Hocus Pocus which came out July 16 1993 and also had a PG rating.
The movie begins in Salem 1653 were we meet the Sanderson sisters at a young age when Winny refuses to marry a boy and the reverend has her sisters taken away, when a spider lands on him they run for the woods, in the woods they meet a witch who gives them a book that helps them become the most powerful witches of all time. 
Some of the actors in the movie are Bette Midler as Winnerferd Sanderson, Sarah Jessica Parker as Sarah Sanders and Kathy Najimy as Mary Sanders. Hocus Pocus 2 has a 63% rating on Rotten Tomatoes. It is an alright movie. I would give it a 6 out of 10.