Scorpion King Dwayne Johnson Carries Black Adam Movie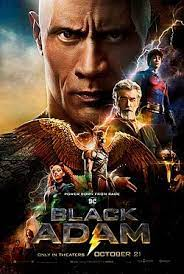 Nearly 5,000 years after he was bestowed with the almighty powers of the ancient gods–and imprisoned just as quickly–Black Adam (Dwayne Johnson) is freed from his earthly tomb, ready to unleash his unique form of justice on the modern world. The movie was released in theaters Oct. 21st. 
This movie is directed by Jaume Collet-Serra and the executive producers are Beau Flynn, Hiram Garcia, Dwayne Johnson, Dany Garcia.
In ancient Kahndaq, Teth Adam (Dwayne Johnson) was bestowed the almighty powers of the gods. After using these powers for vengeance, he was imprisoned, becoming Black Adam. Nearly 5,000 years have passed, and Black Adam has gone from man to myth to legend. Now free, his unique form of justice, born out of rage, is challenged by modern-day heroes who form the Justice Society: Hawkman, Dr. Fate, Atom Smasher and Cyclone. The plot sounds similar to Dwayne Johnson as the Scorpion King in The Mummy Returns.
Rotten Tomatoes has an average audience score of 86% and metacritic gave it a 44%. It has mixed reviews but overall a lot of people are saying good things about the film. 
A quote from metacritic says "I think this is a great way to revitalize the DC universe. " 
Overall, I give this movie a 8/10 but I feel like there is a few lacking scenes, but it is made up with some great action-packed scenes that have Dwayne Johnson as Black Adam carrying the movie through to the end and sets up more DC films, including a cameo with Superman (Henry Cavill) finally making his appearance as the man of steel which is exciting for DC films.