Ex Panther Christian McCaffrey Traded to The 49ers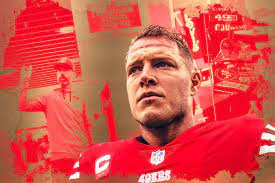 EX Carolina Panthers running back Christian
McCaffrey was traded to the San Francisco 49ers soon after he demanded a trade because the team was going nowhere and he had no future. He was traded for a future  2023 2nd round pick, a 3rd round pick and a fourth round pick, also a 5th round pick in the 2024 draft.The 49ers will not have a draft pick until the 2026 season because they gave all of them away for Christian McCaffre. The 49ers are going all in on talent and not waiting for any of the upcoming talent to maximize their chances of going to the Superbowl.