Wednesday, Hottest New Show On Netflix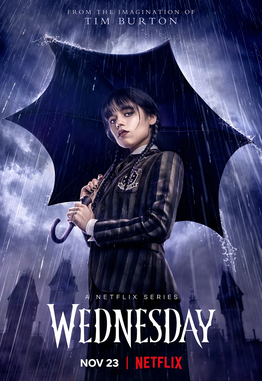 The new eerie show Wednesday was released to Netflix on November 23, 2022. This new show is a comedy and is booming in today's culture. There is just 1 season, as it is a new release, but the series is ongoing. Wednesday is rated TV-14 for fear, language, and violence, some content might prove too mysterious and spooky for kids under 14. If you love some spooky comedy, this is a great show to watch.
Wednesday Addams is expelled from her high school after retaliating to the boy's water polo team for bullying her brother Pugsley. She is then enrolled in Nevermore Academy in Jericho, Vermont, a school for monstrous outcasts, which her parents once attended. Wednesday's defiant nature and cold, emotionless personality make it difficult for her to connect with her peers and cause her to cause lots of trouble. However,  she solves a local murder mystery when she discovers she has psychic abilities she never knew she had.
This show is directed by Tim Burton, who also has the role of executive producer throughout the season. This series allows many previous actors and actresses to have the spotlight. The most prominent of those is Jenna Ortega, who has previously starred in many shows and movies, but the most known is her role in Stuck in the Middle. Ortega plays the main lead, Wednesday Addams, and her acting skills are truly what pull the entire show together and make it so interesting and entertaining to watch. Beside her in acting are Catherine Zeta-Jones as Morticia Addams, Fred Armisen as Uncle Fester, and Luis Guzman as Gomez Addams. Wednesday scores a 71% on the Tomatometer, making it a decent show. However, I rate this show a 10/10, and I highly recommend watching it. So, if you're looking for a new show to binge-watch, Wednesday on Netflix is definitely the one to watch.