Cocaine Bear Turns Out Wacky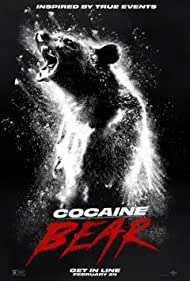 Released on Feb. 24th, Cocaine Bear is a comedy horror film loosely based on a real life event of a bear that ate cocaine
when a drug runner's plane crashes and the cocaine cargo finds it way into the forrest where a Grizzly bear finds some of it.
In real life, the bear dies from an overdose, but the film exaggerates the story, depicting the bear as a ragging monster. Scenes are over the top and its action and death scenes are absurd. But the film does not need to be realistic. Instead, it
uses that preposterous event and stretches the truth a bit to tell a wacky, thrilling, and fun story.
The movie has many genres in it. There's points that will make you laugh, there are times in which you will be scared, and there's
even points where you will be disgusted and disturbed to the point it'll make your stomach turn. The film is great for entertainment.
You will be getting a lot out of this movie. It was directed and produced by Elizabeth Banks and written by Jimmy Warden
and the main cast starring Ray Liotta, Alden Ehrenreich, O'Shea Jackson Jr, Brooklyn Prince, Keri Russell, Margo Martindale, and
Isiah Whitlock. The movie has a Rotten Tomatoes score of 70% and an audience score of 75%. The film is so much fun to watch and
will keep you entertained throughout. Highly recommend it if you are wanting to watch a stupid, funny, and scary movie. We rate this
movie an 8/10.