Kill Bill Good Representation of Tarantino Style Filming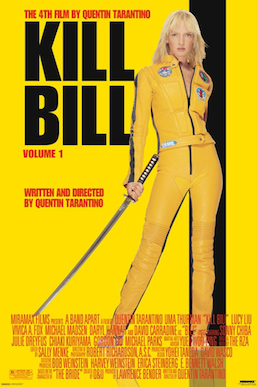 Recently it was said that Quentin Tarantino's 10th and final movie is in the early stages of production. In celebration of his new movie being
announced we decided to watch one of Tarantino's best films, Kill Bill Vol. 1. The story of the film follows a former assassin who has
awoken from a four-year coma seeking revenge on those who betrayed her. The film's style is very apparent and you can tell what
Tarintino is going for with this film. His style choices for the film is clear that he was heavily inspired from 70s kung-fu movies. The
movie is very campy and almost cartoonish. The film at some points is absurdly exaggerated which makes its action scenes and
story a joy to watch. Kill Bill's choreography is great with the fights feeling really authentic and this is due to some fantastic acting
where you can tell everyone involved put their all into it and Tarantino made sure the fights scenes were always interesting.
Tarantino's telling is greatly displayed here. His use of unfolding a story in his signature way keeps you hooked. Add in the back
stories and you have the cherry on top of this action saga. Powerful performances by Uma Thurman "The Bride", David Carradine
"Bill" and Lucy Liu "O-Ren" make this revenge saga all the more engaging and realistic. The complex characters were portrayed
beautifully especially by the likes of  Thurman and Carradine. Kill Bill is still a unique piece of cinema. With its immaculate
sound design and its gorgeous art style and action, it won't disappoint you. If you have a taste for action, martial arts or
Tarentino stuff, We strongly recommend this saga 10/10.