Film Proves Everyone Loves the Underdog
Everyone loves to root for the underdog, and that is what you do in the movie Beware the Gonzo.
The opening credits start the movie with the main character Eddie "Gonzo" Gilman (Ezra Miller) videotaping himself apologizing to his friends and his parents for reasons that you don't find out about until later. The movie then starts, and you see Gonzo as he struggles at the beginning to find a good piece that the jock and bully editor, Gavin Reilly (Jesse McCartney), will put in the school paper.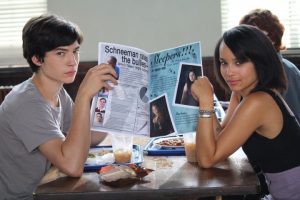 When Reilly censors and cuts most of Gonzo's piece, he decides to start his own paper with his group of nerdy, misfit friends, which includes a rebellious girl, Evie (Zoë Kravitz). The group starts to publish secrets about the school and the students at their private school. All of this pushes some of the wrong buttons. The group feels on top of a revolution, then their standings start to crumble and Gonzo tries to do anything to get the truth out.
The movie was independently released in 2010, and is full of lesser known big actors that pull off a well acted movie. Ezra Miller plays the role of a protector of the misfits and leader of a revolution.
Although the story can be very predictable at moments, the story line has its equal amount of hilarity, sadness, and power struggle. I would give Beware the Gonzo a 7 out of 10 stars. I recommend this movie to anyone who loves the story line of David and Goliath with a modern twist.