Exchange Students Provide Their Foreign Perspective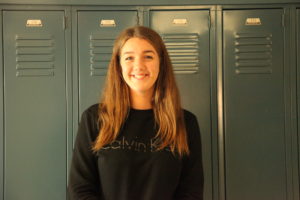 Foreign exchange students, Matilde Krogh-Jensen, Giuseppe Semeraro, and Thuncharin Kunsuwannaroj traveled all the way from either Europe or Asia in order to get the full American experience.
Matilde is from Denmark and she likes to play soccer, softball, and basketball. She isn't sure that she will play softball this year because soccer and softball share the same season. She has also participated in powder-puff football. Giuseppe is from Italy and he enjoys playing tennis. He will probably run track in the spring, he will not be doing a winter sport. Thuncharin is from Thailand and her interests are in trying everything that she possibly can.
Life in the United States is very different from the lives that they live in their native country. Giuseppe noted that life in America seems to be more laid back than in his country. Having to adjust to a new country can be very challenging. Each one has to get to know a new family and new friends.
"We have a good relationship," Matilde said, referring to her host family.
Giuseppe said that he has a few friends at school, but there are some people that he doesn't like because they are unfriendly towards him.
Some may wonder why exchange students choose America versus another country. Each exchange student has their own reasons, but a recurring one is that they wanted to better their English and that they wanted the American experience. Giuseppe said that while the States is not the only country that speaks English, it was the most affordable and seemed the most welcoming. He went on to explain that England and Ireland host families were more interested in the money than the relationship with the exchange student.
Getting to be an exchange student takes much preparation.
"I had [a] test, [and an] interview," Thuncharin said.
Matilde and Giuseppe said they had to go through the same. It was all to have a certain experience.
"Maybe to be more responsible, to be more independent," Giuseppe said.