"We Are Justin Strong!": Inside the Justin Cole Project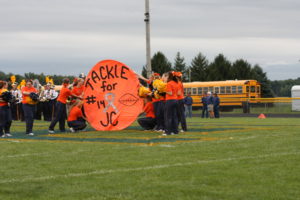 "Justin Strong" is known as the lead school support project for Justin Cole, a sixth grade boy that was diagnosed with Leukemia earlier this year during the football season.  
The project involves supporting Justin by wearing orange 'Justin Strong' t-shirt, orange headbands, and socks that symbolize the awareness of the condition.
Students of the middle school and high school spread their support in hopes that doing so will help encourage Justin, give him hope, and to let him know how loved and supported he is by the school and community.
"We all just want to show our support to him," former football teammate Rudy Morales said, "Even when he unfortunately had to take a break from the team, we still pledged to support him during each of our games by wearing the hand bands and with our uniforms."
Another former member of the football team, agreed with supporting Justin and encouraging him throughout the year.
"I believe it's really helpful that everyone's supporting Justin especially after the football season," Caleb Hall said, "The team and the entire school has gathered together to encourage an extraordinary project for a pal of mine."
The teachers also have contributed to the project by encouraging more students and possibly more staff to support the project.
"I think it's actually very inspiring that students and teachers from both sides of the school team up to support Justin Cole," high school teacher Craig Bowen said, "The whole team of teachers try our best to encourage the students to buy and wear the 'Justin Strong' gear. We all just want to show support and encourage to a strong young man."