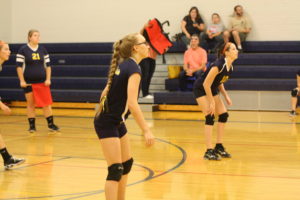 The freshman volleyball team has been doing very well so far this season.
There are currently fourteen girls on the team, including Maddie Gavenda, Madison Schneider, Madison Henfling, Lauren Palus, Lauren Barton, Kaylee Sutliff, Kaylah Root, Kaylin Palus, Mikaela Porubsky, Chloe Moore, Chloe Taylor, Raygan Fluharty, Brooke Dorn, and Carly Kuhl.
There are currently three volleyball teams, the freshman, junior varsity, and varsity. An athlete can move up teams any time in the season, but it is something that is very rare to see. When asked about the possibility of moving up to junior varsity, freshman Lauren Barton said,
"Of course I would like to be on jv, but I really like my coach and all of my teammates so I am very happy being on the freshman team."
Story continues below advertisement
As in most sports, playing time is something that the athlete has to put in a lot of work to earn. Playing time is divided up pretty fairly according to Maddie Gavenda and Lauren Barton.
"I would say I get a pretty fair amount compared to the whole team" said Maddie Gavenda.
"I get a decent amount; it's fair to the rest of the team" said Lauren Barton.
Teamwork is something very important to the girls. Without being able to function as a team as well as they did, the outcomes of their games may not have been as well.
"I think we worked really good as a team right from the start, but we got better throughout the season and ended up working a lot better than I thought possible."