Suspense-Thriller Greta in Theaters Now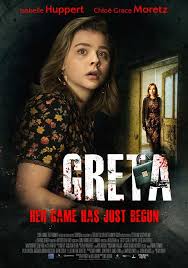 "Greta" came out March 1st,. It is an hour and 38 minutes and it is rated R. Greta is a thriller and suspense movie, with a twist of friendship. Chloe Grace Moretz plays as the unsuspected Frances who returned Greta's purse.
A young woman living with her friend in New York trying to make a living for herself. Frances (Chloë Grace Moretz) finds a purse in a subway and doesn't think twice about returning the purse to the owner. The owner Greta (Isabelle Huppert),Frances recently lost her mother then meets Ggreta and she quickly becomes closer with Greta, but the twist is with Greta, her charm slowly faded away and she become very disturbing and very clingy.
The director of this suspenseful movie is Neil Jordan, but written by Neil Jordan and Ray Wright. The genre is drama. "Greta is B-grade schlock made with A-level credentials and the latter makes all the difference, with the cast and crew knowing exactly what they are doing and what film they are working in. It is deliciously depraved in all the right ways," said James Berardinelli.
I would rate this movie 4 out of 5 because the movie was exciting and has a good story line and some good plot twists. Also, there were some flaws, like there were some confusing parts and parts that could have been left out. Overall, it a good movie and if you like a suspenseful, thrilling movie, I would recommend watching this movie.