Nancy Drew Pilot Looks Promising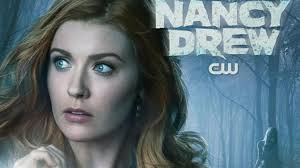 On Oct. 9th the CW released its fresh spin on the classic teen mystery solver Nancy Drew. The shows pilot was very interesting, putting a slightly darker spin on the girl. Nancy is just out of high school with a lot going on in her life, she's given up her mystery solving and is working on getting her life back on track. Then a wealthy family from out of town comes to visit and the woman is murdered. Nancy, her coworkers, and her boyfriend become the main suspects sending her head-first into a mess of a mystery. They also introduced a different suspect, a ghost of the sea queen Lucy Sable, an interesting turn as they make this a possibility. Nancy Drew has never been much for ghost stories and is looking for another explanation, but Lucy Sable will add an interesting twist to the Nancy Drew tale.
Nancy Drews first episode was directed by Larry Teng who has worked on other CW projects such as Supergirl. The show was written by Josh Schwartz and Stephanie Savage who did a very nice job on the shows script.
I personally give the new Nancy Drew an 8/10. The show was interesting and I liked the story line. My main complaint is Lucy Sable having such a big part. I like the sub plot of the smaller mystery and bringing her parents in, but Nancy Drew stories have always been about disproving the ghost.