Disney's Mulan Becomes Live Action Movie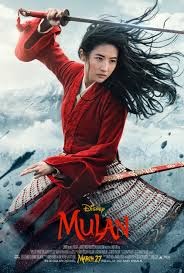 The animated movie Mulan (1998) is now becoming a live action movie in March 2020.
When the Emperor of China says that one man per family must serve in the Imperial Army to defend the country from Northern invaders Mulan, the eldest daughter of an honored warrior, steps in to take the place of her aging father. Disguised as a man, Hua Jun, she is tested every step of the way and must harness her inner-strength and embrace her true potential. It is an epic journey that will transform her into an honored warrior and earn her the respect of a grateful nation…and a proud father.
The genre of the movie is Action and Adventure, Drama, Kids and family

Mulan was directed by Niki Caro and written by Rick Jaffa and Amanda Silver, Elizabeh Martin, Lauren Hynek .

The movie will star Yifei Liu (Mulan) , Donnie Yen (Commander Tung) and Jet Li (The Emperor)