Live-Action Sonic The Hedgehog Hits Theaters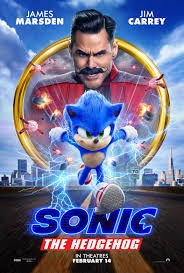 Sonic the Hedgehog was inspired by its video game franchised by Sega. The video game centers on a bright blue hedgehog. The movie follows the adventures of Sonic as he navigates life on Earth with his new human friend, Tom Wachowski. Sonic and Tom must join forces to stop Dr. Robotnik from capturing Sonic and using his powers to dominate the world. The movie stars James Marsden, Ben Schwartz, Tika Sumpter, Jim Carrey, Natasha Rothwell, Neal McDonough, Adam Pally.

Sonic the Hedgehog is rated PG for actions, some violence, rude humor, and brief mild language and runs 100 minutes. Sonic the Hedgehog is directed by Jeff Fowler and is written by Patrick Casey and Josh Miller. It is a live-action feature with cgi special effects.

A total of 64% of Rotten Tomatoes viewers voted that they did like the movie. One viewer states " The property is better off as a video game where if the characters gets too bothersome with antics, one can simply put a stop with the push of a button.". Another says, " it was funny and the graphics were awesome!!!" There are a variety of different things people liked and didn't like overall. I really loved the movie overall.