Rogue One Stands Alone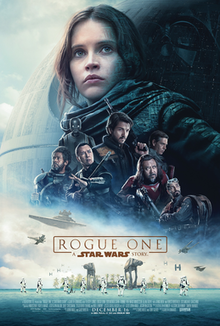 Rogue One: A Star Wars Story is the fourth of five prequels in the Star Wars universe and the first prequel that Disney made after the acquisition of Lucasfilm. Rogue One is the third Star Wars movie to make the billion dollar mark and that is well deserved for the content given in the movie.

No characters from the main Star Wars world are around in this movie and that is absolutely fine because it does great by itself. Rogue One may be an unnecessary add to the Star Wars universe but a welcomed addition nonetheless.

I will rate this movie at 8/10. The movie set up a few things for the 2017 Battlefront 2 game and even though that is a small addition it just shows the interconnected world of Star Wars no matter how confusing it gets at times. There is also no romance so it would have been a little more bearable if it was as bad as The Phantom Menace or Attack of the Clones.

Rogue One has two different timelines: One where we are introduced to the Erso family and the new empire, and the Second which is the main timeline and where we see Jyn and Cassian in the first few shots and the situations they are in.

The first timeline takes place 4 years after the fall of the Republic/Jedi and finds the Erso's on their farm. The Erso's are about to be taken by the Empire/ Orson Krennic when Jyn's father tells her to run. In the scene her mother is killed, father is taken, and she hides until the extremist Saw Gerrera can find her,

The second timeline starts off with Cassian getting information on the missing imperial cargo pilot Bodhi Rook and the information he has on the Death Star and Jyn's father. The second part of this timeline is Bodhi being shown as a prisoner of Saw Gerrera and how he got access of Death Star plans, and finally Jyn being saved by the Rebellion and how she knocked out the troops and tried to run being knocked down by the droid named K-2SO, one of many to be played by a comedian in the world of Star Wars under the Disney Banner.

K-2SO by far is the best part of the story, everything he says is comedy gold but still has a big stake in his character and how he acts in the movie. He is a reprogrammed imperial security droid that works with the Rebellion and is with Cassian in his missions, he dies protecting Jyn and Cassian on Scarif when they are trying to find the Death Star plans.

The Rogue One timeline has it between Star Wars Revenge of the Sith and Solo for the first timeline where Jyn is younger, and the second timeline has it between Star Wars Solo and Star Wars A New Hope

Those included in the movie are:
Jyn Erso (Felicity Jones)
Cassian Andor (Diego Luna)
K-2SO (Alan Tudyk)
Chirrut Imwe (Donnie Yen)
Baze Malbus (Wen Jiang)
Orson Krennic (Ben Mendelsohn)
Bodhi Rook (Riz Ahmed)