Varsity Volleyball Takes Conference Win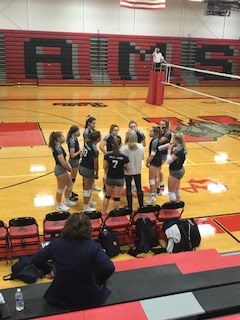 On Oct. 27th the Girls Varsity Volleyball team took their first conference win against the Montrose Rams. They played four sets in the end, the Marauders winning three.
They won the first two sets with the scores of 25-18 in the first, 25-19 in the second. In the third set, the girls lost their motivation and lost 22-25. However, they got their heads back together and fought for the fourth set win 25-18.
Outside hitter, Tori Maynard, said, "It feels good to finally have a win this season, and I'm really proud of us even if we didn't have the greatest record." It was the last game before districts and the team really strived for a win under their belt.
Some of the team has noted that they have been playing better than usual and they hope to get a good start in the districts. The first district game takes place today in Belding.