Anthony Vanderlip Plays Six Roles in Upcoming Plays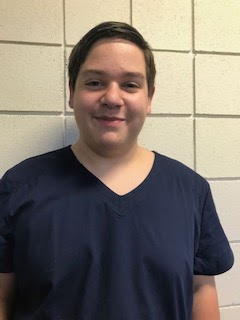 Sophomore Anthony Vanderlip was interviewed about his Drama class and the upcoming play. He is interested in Drama because of the acting and the fact that he can play many different characters.

"I have a total of six roles in both plays, I have the roles of Tyson, Donald, Grandpa, Operator, Magic Mirror, and Snow White."

He mentioned how they are performing two different shows. One for virtual kids and the other for face-to-face.

"The Virtual one is called Virtually Ever After and it's hard to say it has a plot because each scene is different, but I would say Classic fairy tales turned into Comedy that fits today's Norm in a sense. And for our other play, titled Left to Our Own Devices, which is also different from scene to scene, but I would describe it as different people in different situations, each one either wackier or heartfelt then the last."

He described how he can relate to a few of his characters, but others he doesn't. The Drama director Mandy Bashore is great about her observations and suggestions to help him improve with each character.

He was asked about his favorite part of Drama and he said, "Oh the acting by far, it's fun to step out of being me for a short period of time and becoming this other character that I have a blast playing."

"I'm very excited not only to see it myself but for other people to see it. But, the only thing I'm nervous about is memorizing lines because I have a lot to memorize."

He was asked about which character he is most nervous to play and he responded with, "The most nervous scene I am worried about is being snow white, because I've never been a princess and I think becoming that role is gonna be the most difficult."

When it comes to different characters, you need different things to wear to make the characters come to life.

"I feel that I wear more costumes than casual, because knowing our costume department when it comes to me they will come up with some wacky stuff."

Vanderlip is getting more and more excited as the first performance gets closer. He has been working hard and will continue to work hard to help make the plays come to life.

"Our play will be on January 15th, and 16th, and we really hope everyone will enjoy it."