Feel the Beat Inspires Action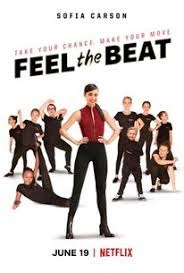 On June 19th, 2020 Feel the Beat aired on Netflix. This movie does a great job of showing hard work does pay off in the end but it comes with a price.
Feel the Beat is about an upcoming dancer (April Dibrina) fails a Broadway audition by an embarrassing public mishap. When April goes back to her hometown after failing she takes an offer at her first ballot studio, where she teaches a misfit group of young dancers. She hopes that with the upcoming youth dance competition it will help her get back on the right track.
Rotten Tomatoes and IMDb both gave this movie a seven out of ten. I would also give this movie a six or seven star rating. I give this movie this rating because I feel that the plot is kinda all over the place but it does do a great job of showing the life of a Broadway dancer.
The actor and actress that are in this movie are Sofia Carson (April Dibrina), Pamela McDonald (Ruth Zimmer), Sonia Laplante (Colette). The director of this movie is Elissa Down and the writers are Micheal Armbuster and Shawn Ku.