Big 10 Rivals Go Head To Head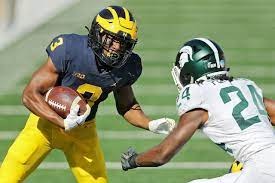 The sixth best team in the nation, Michigan (7-0, 4-0 Big Ten) will travel to East Lansing on Saturday, October 30th to play the eighth best team, Michigan State (7-0, 4-0 Big Ten). The game at Spartan Stadium will be an intense battle and a test of each team's credentials.
Both teams have been able to effectively run the ball throughout the season with Michigan's pair of running backs, Blake Corum and Hassan Haskins combining for over 1300 yards rushing 20 scores on the season.
Michigan State meanwhile boasts a potential Heisman Trophy candidate in Kenneth Walker III who has rushed for almost 1,000 yards and had 9 touchdowns on the season.
Both teams know stopping the run will be critical to their success on Saturday. In last season's 27-24 win over Michigan, Michigan State was able to hold Corum and Haskins to a combined 71 yards rushing.
Michigan State's focus to the game is to force Michigan into obvious passing situations as Michigan this season has not thrown many passes, with starting QB McNamara only attempting 146 passes this year, which is more than only 11 other teams.
Source: https://www.mlive.com/sports/2021/10/michigan-state-preparing-for-potent-michigan-rushing-attack-and-two-qbs.html