Students Prefer Face to Face Learning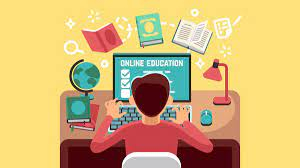 A total of 50 Ovid-Elsie High School students were asked to share their thoughts on online school this week. This is what they said.
About 78% of respondents said that they prefer in-person schooling over virtual schooling.
Another 25 of the 50 said that the best part of being online is being able to stay in bed all day. 13 said that the best part is staying safe from COVID-19, and 2 people think that being able to see their family is the best. Others mentioned that they favor things like being able to go to work throughout the day, or having more time to play video games.
A total of 56% of students surveyed agreed that the worst part about being online is that they aren't able to do their work in a classroom setting, and 30% said that the worst part is not being able to see their friends everyday. 6% of the respondents said that their least favorite part is having to be with their family all day. Some other things that students think are the worst are having to stay on long Google Meets, and not being as engaged in the learning when it's from home.
Another 28 of the respondents said that the thing that they miss most about in-person schooling is their friends. Seven of the 50 miss the teachers the most, and 2 miss eating lunch at school the most. Some others said that they miss the supportive environment, and some of their specific classes, like band, the most.
In between classes at home, 44% of students said that they do schoolwork, 16% percent said that they sleep, and 14% said that they snack. Multiple others said that they do work for their jobs.
And, 15 of the respondents answered that the hardest subject to learn virtually is math. 11 people think the hardest is English. 4 others said that the most difficult virtual subject is science, and three think it's social studies. A few others said that classes involving the arts were the hardest to do online.