Taylor Swift Rerecords Red Album, Adding New Songs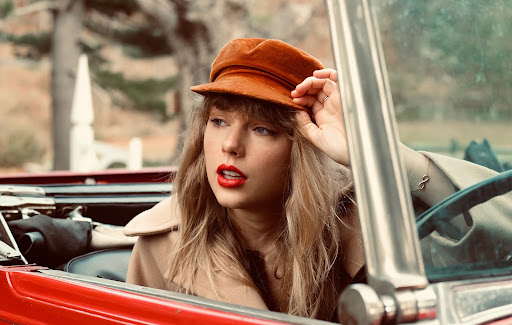 On Nov 12th, 2021, Taylor Swift released the rerecording of the album Red, as well as a short film All to Well based off of one of the songs. The album featured recreations of the 21 songs on the original album as well as nine songs "from the vault," or previously unreleased. Swift is re-releasing most of her albums due to her previous record holder taking the rights to all of these original albums.
One of the big hits from the vault is the 10-minute version of the song All too Well. With the release of the new album, Swift also directed and released a short film that followed the storyline of this song. Starring Dylan O'Brien and Sadie Sink, this 15 minute film follows the conflicts that Swift went through in order to come up with All too Well. The yourmonkeygeek.com viewer rating of this short film is five stars. I would personally agree with this rating, the actors did a wonderful job portraying the story in a short amount of time, making the music more relatable to the audience.
As far as the music that came with this release, fans were not disappointed. Although I personally prefer the original versions of most of Swift's songs, the need for recreation is understandable. All of the songs still sound good in the re-release, but for me the songs from the vault are what make the album a new experience. Old and new Taylor Swift fans alike are connecting across the internet sharing their opinions of the new music and what it uncovers about Swift's life. On the I-Tunes charts, the extended version of All too Well has quickly moved to the number one spot, with multiple other Red (Taylor's Version) songs following in the Top 20.
It is clear that Red(Taylor's Version) has taken the music industry and the internet by storm. People are following Taylor's clues in the music, short film, and interviews to make connections to what the songs are truly about, making the album a huge success all around.