Applebees Blackened Shrimp Seasoning Overpowering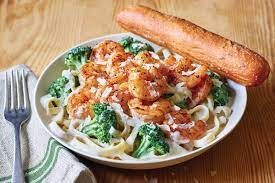 I went to the Applebees in St. Johns on a Wednesday night to try a new meal that I have not tried before. Applebees is not a fancy restaurant and it's a very common place to eat at, they are known to have affordable prices for a decent quality meal.
I am mostly going to be talking about my meal, and not the restaurant because I have been here many times. The restaurant was busy for a Wednesday night which did have us waiting for around 20 minutes before we got a table.
I ordered a strawberry lemonade with broccoli shrimp alfredo. I do like shrimp quite a lot so my expectations were raised a bit. I also ordered mashed potatoes on the side because it's one of my favorite things to order there. I got the dish and it was alfredo, noodles, and broccoli with shrimp spread out on the top and a breadstick on the side. The bowl was hot, and so was the food, which I hope meant that this was fresh. I tried shrimp first and I did not like the seasoning on it at all. This seasoning is the one they use on a different dish. It was overpowering and I could barely taste the shrimp portion. I moved on to the noodles and alfredo. These noodles' texture was rubbery and the alfredo was scarce. The broccoli, however, seemed to be steamed and very nice. I had some mashed potatoes and those were of course the best, it was garlicky and buttery, just as they were supposed to be. The breadstick was a little cold too, but it didn't taste bad. Overall, the dish costs $14.99, and the extra potatoes cost an extra $3.
If you go to Applebees and you like their blackened shrimp seasoning then I would recommend this for you, but personally I did not enjoy this dish as much as I hoped. I will stick to my normal order next time I go there.