National Lapoon's Christmas Vacation Tops Holiday Movie List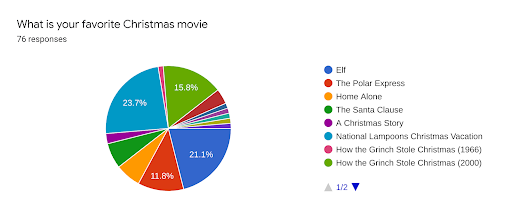 A survey was sent out to all the Ovid Elsie high school students, about what their favorite christmas movie is. The survey received 76 responses in the multiple choice and an additional 10 in the written response, which allowed the students to write in a movie that wasn't on the list.
In the multiple choice portion, the options were, Elf, The Polar Express, Home Alone, The Santa Clause series, A Christmas Story, National Lampoon's Christmas Vacation, How the Grinch Stole Christmas (1966), How the Grinch Stole Christmas (2000) and, How the Grinch Stole Christmas (2018). Out of the Multiple Choice answers the most favorite was National Lampoon's Christmas Vacation that earned a 23.7% of the votes, a close second was Elf with a 21.1% of the votes. The 2000's live action Grinch was next with 15.8% and next was The Polar Express with 11.8%. Home Alone, and The Santa Clause had both received five votes each. The 2018 Grinch received three votes, A Christmas Story received two, and the original 1966 Grinch received one.
The written portion of the survey was optional, and students were given the option to write in another movie that was not mentioned in the multiple choice. Students wrote the movies, The Happiest Season, The Christmas Chronicles, Cheesy Hallmark Christmas Movies, Charlie Brown Christmas, Rudolph the Red Nosed Reindeer, Santa Clause is Coming to Town, It's a Wonderful Life, Die Hard, Holiday Inn, and White Christmas. All of these had one vote each besides The Happiest Season which two people had written in. Others that wrote in movies ended up not being Christmas movies like Shrek or Spiderman.
In conclusion, the most liked christmas movie chosen out of the multiple choice survey was National Lampoon's Christmas Vacation, with a whopping 18 votes. When including the portion that they can write movies in I have learned that a lot of people like a lot of different christmas movies, and others just liked to write random movies or things into the space too.