Ron's Gone Wrong, a Comedy with a Message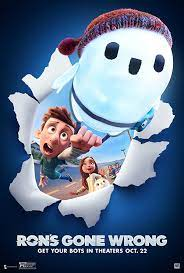 We watched Ron's Gone Wrong, an animated comedy film released on Oct. 22, 2021. It's available in theaters and on Disney+.
It's about a boy named Barney who is a socially awkward schoolboy who receives a robot named Ron – a walking, talking, digitally connected device that's supposed to be his best friend. Barney is excited to finally have his own robot until his new toy starts to malfunction, drawing the attention of a shady executive who wants to protect his company's stock price at all costs.
The movie is voiced by Jack Dylan Grazer, Zach Galifianakis, Kylie Cantrall, and Thomas Barbusca. It was directed by Sarah Smith and J.P. Vine.
We would recommend this movie if you like fun comedies with a message. Rotten Tomatoes gives it an 80% and IMDb gives it 7.1 stars out of ten.