Don't Look Up, Suspenseful, timely Movie.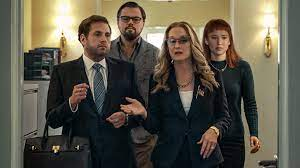 Don't Look Up, a comedy/disaster movie, is very suspenseful on what happens with the world and how the people will handle and solve it. It is fair to say this movie is a very good movie. It was released on Dec. 5th, 2021, I would recommend this movie to a family with teenagers or even for adults.
Randall Mindy is played by Leonardo DiCaprio, Kate Dibiasky is played by Jennifer Lawrence as well as some more recognizable and amazing actors throughout the movie. Each character did well throughout and leaves a very suspenseful thought of what will happen next. Also, it has very funny scenes that will have you laughing no matter what.
The film is set in both Michigan and Washington DC, where a girl that graduated from Michigan State University finds a comet and she shows her teacher. When she shows him he starts teaching her and a group of kids the math to figure out how far away from Earth that it is. When the math is done, he figures out that it is really close and will hit Earth very soon. After getting a hold of some very important people at NASA, they take it to the President, but she wants nothing to with it. They start raising awareness and then the president gets in the loop with it and starts trying to solve the problem. Rotten Tomatoes rates this movie at 55% which I would have to disagree with. I would personally rate this movie a 9/10 because this movie is funny and suspenseful, which I like ,and it makes me question everything that might happen and I like to try and see if they can solve it. Also, it was cool that it was right out of Michigan.