U.S. Diplomats Talks Indo-Pacific Security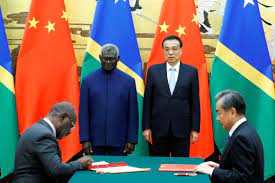 The United States is sending top officials to the Solomon Islands over concerns that China may be looking to establish a military presence on the islands and in the region. This comes following a visit from an Australian senator last week. The White House is sending Kurt Campbell, the National Security Council Indo-Pacific coordinator, and Daniel Kritenbrink, the assistant secretary of state for East Asian and Pacific affairs to lead the delegation. The delegation also plans on traveling to Fiji and Papua New Guinea.
All of this comes after China and the Solomon Islands signed and agreement where China could bring a police force to the islands to "maintain social order". The Solomon Islands are currently downplaying the treaty as they believe China will not establish military bases into the region, however, the West, and neighboring countries are worried about the threat China could pose in the region.
Source: https://www.nbcnews.com/news/world/us-officials-heading-solomon-islands-china-pact-worries-rcna24942