War of The Worlds Very Suspenseful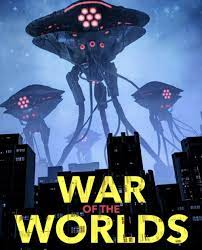 War Of The Worlds: A Sci-fi/action, directed by Steven Spielberg, it is very suspenseful and it has a very good plot. It is fair to say that this movie is very good. It was released on June 23 , 2005. I would recommend this movie to teenagers to watch with friends or by themselves if they prefer, also adults.
Ray Ferrier is played by Tom Cruise, Rachel Ferrier is played by Dakota Fanning, and Robbie Ferrier is played by Justin Chatwin, as well as some more recognizable and amazing actors throughout the movie. Each character did well throughout and it really kept the movie suspenseful throughout the movie and made it to where things were unpredictable throughout.
This film is about a dad and his kids. The kids' mom dropped them off with their dad and both kids seem to not really care about him. The dad works nights so shortly after work he went to bed. When waking up, he realized his son had left with his car. He ran outside and saw the big black cloud, with all of the neighbors outside, they all ran to the backyard to see it better. When they all got back there the wind and lightning picked up, the lightning was hitting the same exact spot everytime. After things calmed down, he went back outside and his son came running, there was no electricity and all the cars had stopped working. The Dad then went to check out where the lightning hit, when he got there a robot alien thing came out from the ground and was destroying everything and killing a lot of people. His friend who is a mechanic got a car working and he went back and got his kids and stole the car, now on the run. Their mom is in Boston on vacation so they decide to go to her house, later that night it was hit. Therefore, now they had no choice but to go to Boston. While on the way there they ran into some troubles. In the end, they all got there even though some of them got separated. The Aliens started dying because they couldn't handle our air, water, and food. Therefore, the tiniest bacteria killed them. Rotten Tomatoes rates this movie at 75% which I would have to disagree with because this movie is very interesting and I think it needs about an 80 or higher. I believe this because never once did my eyes leave the screen.