Dealing with Braces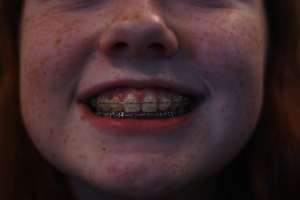 A quick flash of silver. Maybe a spark of color. This. Is. Braces. Many people wear braces, some for several years, and others for just a couple of months. Most people generally wear braces for one to two years, some for just a couple of months, depending on how long they need to wear them. "I have had mine on for two years," said Camery Bancroft, "but I get them off later today."
"I've had mine on for a year, but I don't know when I'll get them off. They [the orthodontists] didn't explain how long I will have to have my braces on, it just depends," explained Gabby Hall.
Most people wear braces the new way, a wire running across their teeth that is loosely held in place by brackets. The wire gets tighted every time they go to the orthodontist, or they get a new one sometimes that is smaller. The colored rubber around each one helps hold it all together. The rubber bands inside that are attached to the top and bottom teeth help realign your jaw.
A majority of the freshman class has had braces at one point or another in their life. Most wear their braces for around two years, and then get them off. Everyone who has had braces will have to wear a retainer at least for the majority of their life.