Bees in our Midst
The school year has begun as any other school year has, with another batch of freshmen, new locker combinations, and…bees? With almost forty additional bees in her room every hour, business teacher Bonnie Ott has seen hundreds of bees in her midst.
"It's been entertaining to say the least," Ott said. "Students have done a really good job trying to keep the room bee-free."
The business department has seen a number of brave and capable bee assassins.
"Remi Whitman has been a really good resource for bee killing," Ott said. "Alyssa Lawrence has been outstanding at taking it upon herself to eliminate those bees as she sees them. Tyler Ott, Matt Hurst, and Jacob Somers have also had a hand in getting rid of the bees."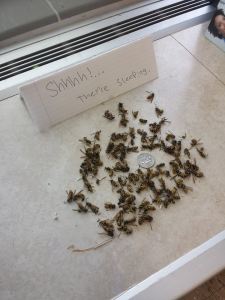 Although the business department has been excellent in taking it upon themselves to exterminate the problem, the school staff haven't been sitting idly by either. The custodians have sprayed the outside of Ott's room and so far, there haven't been many bees.
"It's gotten a lot better," Ott said. "Actually, when we had a really hard freeze the other night, I think that probably eliminated a lot of the problem, and yesterday all day I only saw one bee, so that's encouraging."
The bee problem has been quelled, but it will not be forgotten. The constant increase in bees served as a nice occasional distraction from all the busy activities that business students were responsible for. Students in the business department found it amusing while it lasted.
"I find it hilarious, senior Cameron Freeman said. "Even though I've never had such an experience with bees, it was almost like attack of the killer bees in business class. It was great. I enjoyed the time that the bees were here, but I'm glad they're gone."
While taking a break from work to watch someone swing wildly at a bee was amusing, it's good to have the business room under human occupancy once again.