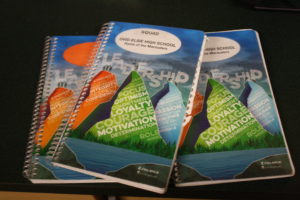 The school has been using planners since the 1997-98 school year, and it doesn't appear that will stop using them anytime soon, as most students feel that they have been helping them greatly.
Freshman Lauren Barton agrees that student planners are beneficial to students and young adults.
Story continues below advertisement
"I think the planners are very helpful and they keep me organized, especially because I'm an athlete and we have practice and I go home and I see what I have done for the day and what I haven't done, what we have tomorrow and et cetera," Barton said.
In addition, students such as senior Jolie Saul feel that planners not only improve the organization of students, but also help them remember certain things better.
"I use it every day to write down things," Saul said. "Just writing it down helps me remember the tasks I need to get done later. I'm trying to motivate myself to remember to look at the planner later. I know it's going to help me later in the future."
Planners, according to many students, not only help them remember assignments, but they also use them for special activities and events.
"I use it for both regular assignments and special events," sophomore Noah Whitford said.
However, some students, such as freshman Billy Parmenter, do not use their planner.
"I never used it before and I seem to get the same grades anyway." says Parmenter.
In addition, teachers such as band director Jeanine Ignash, advocate the use of planners for their students.
"for students now, I think it's even more important because there is so much going on after school. Many students are in more than one activity, and have a lot of things on their mind," says Ignash, "I know when I was in high school, it was very helpful for me to write down my assignments so that I could just look back at one location at the end of the day and say, 'Ok, I need to take home my math book and take home my reading book.'"
Though most teachers advocate and encourage the use of planners, most students, such as freshman Alex Mehney, say that they would use them even if they were not directed.