Freshmen Adjust to New Role in School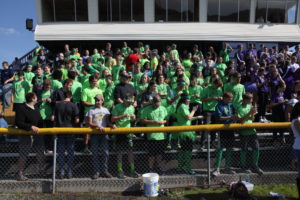 Although the new freshmen were always connected to the high school, there's many new challenges they face. The freshmen are thrown into a whole new environment with harder classes, being the "low dog", and most definitely more work.
A struggle each student faces is being the "top dog" as an 8th grader, then going to the very bottom as a freshman. Different people adjust to this in different ways.
"It's kinda hard, but kinda easy," freshmen Colton Sutliff said. "Everyone is nice in this school, so everybody just kinda helps everybody out where they need to go."
The differences from being in the middle school to being in the high school can be a bit overwhelming at times. There is more homework, more sports practices, and more pressure on keeping up your grade point average.
"I overcome this struggle by just devoting more time to studying," Freshmen Quinn Thornton said, "I like to spend some time each night to look over everything we do in class."
The adjustment might be hard, but some look forward to the new clubs and sports teams in the high school such as robotics, Model UN, and soccer. These are all new things for some of the upcoming freshmen and become their favorite things very quickly.
"My favorite thing about being in high school is, that we finally get to play on a soccer team," Freshmen Ethan Byrnes said, "We don't have to go and play on some club team anymore."