The Language Arts Team is Writing Their Way Into The Story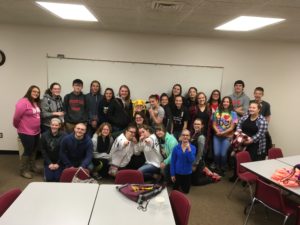 The Language Arts team is writing their way into the story. This is a team of students from our school that come together to compete by writing essays. They go to Ithaca and split into four teams to compete to win writing events. They have two total competitions during the school year.
"The Language Arts team is just a team that goes to compete by writing or doing some sort of essay topic," senior Kayla Duckert said.
This year while writing the team won't know how well they do during each competition. The team has many strong writers who enjoy a little competition while writing. The Language Arts team comes together as one to write their stories in hopes to win each and every competition.
"We usually don't get told how we do so I don't think the team does very good generally," Duckert said. "I think a year or two ago we got first place, but we have a lot of strong writers on the team so I'm hopeful this year."
The team is able to chose which competitions they want to compete in. Not very many team members showed up to the very first competition. But as the second competition came up, there were a lot more writers on the team that showed up to compete.
"We work very hard on our essays so I think we are doing a pretty good job." senior Kora Davis said. "We're not really told how we are doing we just kind of have to assume."
As the team has now completed the two total competitions of the writing season, the competitors will have to wait to find out how the Language Arts team did together as one team from our small town school.