Officer Shares Personal Impact of Drunk Driving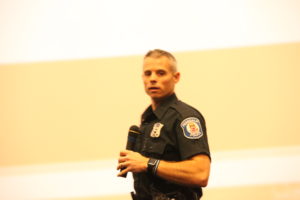 The NHS, Student Council and the Journalism class participated in the Strive to Arrive Alive conference where speakers came in to talk about the three D's: drunk, distracted and drug driving.
Although there were simulations, many of the students that attended said the most interesting thing about the convention was the stories people came in to share. The convention was supposed to mess with emotions and persuade students not to participate in any of those things.
One of the speakers, Officer Cleveland, told the audience about how a drunk driver hit his mini-van and his daughter was killed in the crash. During this story, there were few dry eyes in the room.
"The most impactful message I heard was probably from the keynote speaker", senior Serina Heinze said. "I feel as though I can relate to him to an extent as I have lost a sibling and I've had to adjust from a family of five, to a family of four."
Nearly a third of the accidents on the road are due to intoxication. That's nearly 10,000 people!
Distracted driving is another big part of this that problem. People will get on their phones, not look at the road and cause accidents. Accidents that are preventable, nonetheless. Good people can even make these mistakes, which is why programs like this are made; to stop people from using cell phones or other devices whilst driving.
"I think the conference was a good way to inform kids of the dangers of the three d's," Heinze said. "I think the stories honestly scared us into not wanting to do any of these things."
This field trip was a way to show students the dangers of the road and why they should always be alert and not to do something that could harm others.