New Advisory Classes Launch for the Year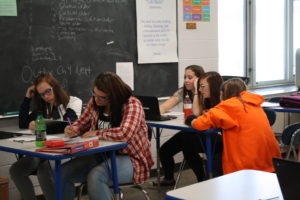 Every year the staff, school board, and student body try to find ways to improve the school. This year, principal Jason Tokar decided to place each student in an advisory class that will meet once every two weeks or whenever is necessary.
Tokar had some specific goals for this new class.
"I want students to feel more appreciated by the school, for them to have a voice and be able to make this their school,"  Tokar said.
Being able to enjoy school and look forward to it everyday is something that he wants every student to have, and if this could make that possible then he wants to make the best out of this opportunity.
Although he believes school pride and culture are important things, the original reason for having this class was for students to have time to work on practicing for the SAT/PSAT. Every student has made a College Board account and a Khan Academy account so that they can use this as practice for those tests.
These classes were also created was so that each student could have their own adviser that they could go to whenever they are falling behind, having trouble at home, or just to have progress reports printed. Tokar wants every kid to feel like they aren't invisible and for them to have an adviser to look out for them.
"I think it's going to be very effective, because the school can reach so many more students this way with such small groups of students paired with one individual teacher." said freshman Maddie Gavenda.
Class adviser Kari McCormick thinks that this change will help the school to become a better place. She thinks it's a needed change.
"I think so, I'm positive, yes," McCormick said.
Over the past few weeks these meetings have already proved to be making a difference, Last Friday, some of our students were painting the outside of our school to promote our Marauder pride. This is just one of the many projects that are already being organized, such as painting our parking spaces to give students individuality. The advisory classes have already got together to discuss what projects they want to t