Middle School Student Council Builds Leaders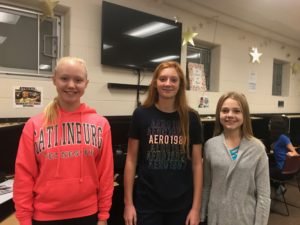 Ever wonder what the purpose of Student Council is, or why it starts in middle school?
Student Council helps build role models and leaders for not only middle school, but for your whole life. Student Council is made up of six representative from each grade. They meet every Wednesday. Right now, Student Council members are involved in Spirit Days They decided that Monday would be PJ Day, Tuesday would be Twin Day, Wednesday would be Disney Character Day, Thursday would be Class Color Day, and Friday would be Blue and Gold Day.
One sixth grader, Joey Bancroft said,  one thing he was excited about through Student Council was,"The Halloween dance." The reason he liked this was for all the different games and costumes. The Halloween dance usually has a costume contest, games with prizes, concession stands, open gym, and dancing in the cafeteria. This dance is open to all middle schoolers and it is a lot of fun.
Another student perspective comes from seventh grader Rian Kirby whose been doing Student Council for two years. She said the reason she joined was, "To help out with the activities at school and make them more enjoyable to the students." Rian was also excited that this year the Student Council got to vote and pick out the Spirit Days. To go with the high school Disney Theme Week, they chose one day, Disney Character Day, to match up with the high school theme.
With a new advisor, Ashley Frechen who is also the sixth grade language arts teacher, Student Council is planning one thing at a time. Spirit Week is the big event for now. Frechen thinks Student Council is important because the students have a say in the events and different things going on in the school, and they learn leadership for their lives.
Eighth grader Claire Wiktorowski has been doing Student Council for two years and the reason she keeps doing it is for the fun of the club and the leadership skills she has learned from it. Claire is excited to help plan for the events that Student Council puts on. Also, she is glad that she gets to help with the community too.
Overall, Student Council not only affects the lives of the members but also the lives of the community and everyone in the school. For the members it helps build friendships, leadership skills, and a sense of accomplishment when they get a project done. But for the school, it helps the students know if they need anything, have questions, or need a voice to be heard the members of Student Council are there.
           For the teachers, it helps them feel if they need help with the classroom or different events they want to put on for the school, Student Council is there for them.