Do You Have What it Takes to Survive?
You've probably seen the fliers around school warning you to survive the night. But what you might not know is that the Drama class has been working tirelessly to bring you an amazing theatrical experience. The instructor Mandy Bashore has worked in many plays, now she is directing the play 10 Ways to Survive The Zombie Apocalypse. The play is going to be on Thursday, November 8th, During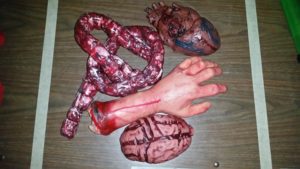 sixth and seventh hour, for only $2 a ticket. The play will take you through 10 ways to survive the impending zombie apocalypse and two or three bonus ways as well. With a frightfully good cast and crew be sure to bring you money and pop a bag of popcorn before the show. You'll laugh, you won't cry, and you'll have a great time. So go to the first ever school play put on by the drama class next Thursday.