Student Challenge Talks Christian Mindset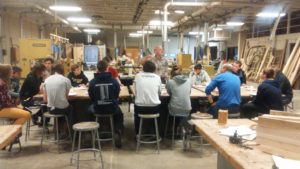 For Student Challenge, Everett Smith is teaching a lesson about the right mindset to have as a Christian.
   Student Challenge takes place in the woodshop room, also known as C-14. It is weekly on Thursdays, starting at 7:15 a.m. and lasting until 7:50 a.m.
              This lesson is being taught using Matthew 7:13 and the Parable of the Sower to help the students understand that there are many paths that Christians walk on that may not be the one that God wants them to walk.
   This lesson is being taught to impact everyone who is currently on or is considering a walk with Christ, and is being taught because Christians need to be aware of the roads that lead to destruction.
              Joseph Cooper said, "Depending on where we are we will either whither or survive."
   This shows that at Student Challenge they care about their community and they want the best possible walk with Christ for them; not being aware of the roads leading to death is detrimental to any Christian.