OE Wrestlers Compete in Regionals, State Tournaments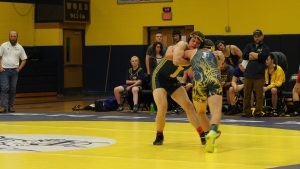 On February 14th, four Ovid Elsie Marauders made it past districts at Alma High School and into regionals.
Mason Spiess, wrestling at 103, Colten Towsley Wagner at 140, David Hammond at 145, and Devon Stringhum, wrestling at 160 pounds. Then, two days later at regionals at Belding High School, Mason Spiess and Colton Towsley Wagner went 1-2 for the day, both getting eliminated in the blood round.
Deon Stringhumm ended his season with a shoulder injury, causing him to go 0-2. David Hammond took first place, earning his place at states taking place at Ford Field in Detroit March 1, 2.