OE Broadcasting Announcements has Two Teams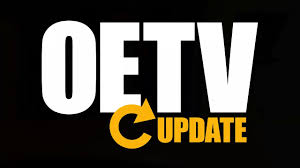 OETV has its biggest group this semester, the class has two teams! On team one t is, Alexis Philips. Sydnee Godfrey, Kendahl Smeltzer, Dravin Silvercrow, Gavin Densmore, Ella Besinger, and Jacob. Then, on team two we have, Taylor Stinson, Sharlotte Philips, Chase Pierce, Emma Del Bosque, Tristin Ziola, and Richard Ruston. They meet everyday during 7th hour. Each group gets to either do daily announcements or news packages for the week. They learn how to use studio equipment, and everyone has a job. Each team gets to use field cameras and wireless mics just like the pros use.
Last week team one did announcements, and team two did a story for the girls varsity basketball team going to districts. This week team one is doing a story about the lacrosse team and team two is doing announcements. If you are interested in joining or learning about broadcasting sign up for it next year!