High School Teacher Exemplifies Tenacity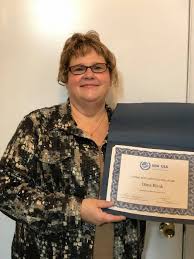 Dana Blank is a truly remarkable woman. She has been around the block and back, many times. Before she started teaching here at Ovid-Elsie High School, she was a retail director in Florida, an employee at the State of Michigan, and the list goes on. But it was in helping people further their education that she truly found love in. So, her journey as an instructor began.
She went to Michigan State University to further her education and get her master's degree. After graduating, she started teaching at Baker College. Blank was the youngest person in the room, yet she was the teacher. Not long after she started at Baker, she decided to apply for a teaching job at Sexton High School as well. After an eye opening year at Sexton, she decided to resign.
Not long after, she ran into an old friend. They both came to the realization that they had both resigned. With this in mind, her friend told her that she would be perfect for the job that she resigned from. And so, Blank faxed her resume to Kirk Baese, the principal at Ovid-Elsie High School.
"It was me and another person interviewing for the job. I went in first, and Mr. Baese hired me on the spot." she said, reflecting. "This is now my 18th year teaching here," she added, with a warm smile on her face.
When asked what her favorite part about teaching was, she replied with, " Kids. The way their eyes light up when they finally get something. Just knowing that I have a hand in changing lives… it means the world to me. I sent my parents a card on Valentine's day, thanking them for supporting me through my career journey. Because it was them that were there for me with everything. Without even realizing, they are the reason that I got to change thousands of lives."