Little Hits Theaters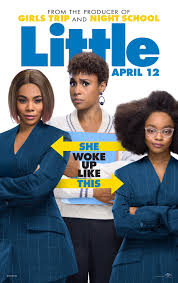 At only 14, Marsai Martin has produced and starred as Jordan in the film Little. Marsai pitched the idea of the film when she was only 10- years- old, she got the idea from the movie Big but the opposite. As in the movie, B is about a 12- year- old boy who wishes to become a 30-year old man comes true;.but in the movie Little, a woman who turns into a little girl overnight. You may have seen the name Marsai Martin from other shows like Black-ish that has won multiple awards including a golden globe. Marsai has been an actor since the young age of five. Her young age does not stop her for she has won multiple awards for her career so far.
This film Little is about an adult woman named Jordan who is sort of a bully to her colleagues and just a generally unkind person. When in middle school, another girl made fun of her and she has many walls built because of that. One night while sleeping though Jordan turns back into a young girl to relive her middle school career. Little is written by Tracy Oliver and Tina Chism. Chism also is the director of this film while the youngest executive producer in Hollywood being Marsai Martin. Regina Hall who also played in the hit The Hate You Give, is playing the main character of the adult Jordan. While Marsai Martin is playing the younger version of the main character. This is rated pg-13 and Rotten Tomatoes gave the review a 47% so far. This film came to theaters on April 12th, 2019 but there is still time to see it in theaters.