Little Birds, Relatable Teen Movie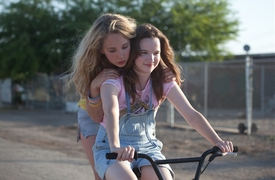 Little Birds is a movie about two small town girls, Lily (Juno Temple) and Alison (Kay Panabaker) they are two best friends living in a poverty-stricken California town near the Salton sea. Lily is a suicidal, rebellious and desperate girl who lives with her mother, while ally is a careful, bashful and cautious girl who lives with her alcoholic dad. Alison finds consolation under her uncle Hogan's horses and automotives meanwhile Lily wants to flee her troubled home and messy life as soon as possible.
     Together the two girls make the acquaintance of skateboarding boys from L.A with whom Lily becomes very fond of. Before the boys leaveLlily gets a  number from one of the boys Jesse (Kyle Gallner) as well as a kiss, Lily also promises a phone call. However, this upsets Alison. Later, Lily convinces Alison to take Hogan's truck to meet up with the boys in L.A for awhile. Alison was very hesitant for awhile, but Lily is good at convincing her. Later, they steal his truck and start their journey to L.A., then stop at a convenience store  where Lily saves Alison when she gets caught returning the food that Lily stole. Luckily, they got away in time and are back on the road. They soon arrive to L.A, find the three boys and drive to their house. They soon find out their house is an abandoned apartment where other homeless teens live.
     The next morning Jesse takes Lily to an empty house where he says he used to live. Meanwhile, Alison calls her Uncle Hogan to apologize for taking his truck and promises him she will return soon and safe with his truck. Jesse notices Lily's scars and is intrigued by her self harm scars, so to make her feel better he showed her his scar on his chest. When everyone returns to the apartment, one of the boys (Jesse's friend) finds an online dating website and gets an idea. He wants to have guys come over, have Lily distract them so he can pull a gun out and scam and rob them. Lily agrees eager for some fun, she goes to meet an old man, she lures him into their apartment with the promise of intercourse. Once they get there, all the boys and Alison are hiding in the bathroom. When the boys hear them come into the bedroom they all bust out of the bathroom and Jesse's friend pulls out a gun and threatens to call the old man's wife and shoot him if he doesn't give his credit card information, money,  and phone. After they rob the man until he has nothing left they let him go and the boys go on a shopping spree, they buy new skateboards and clothes but nothing for the girls. Alison is not having a good time following them around so she makes Lily promise to go home soon, but when they return to the apartment, Alison gets into an argument with Jesse's friend and he kicks her out so she gets ready to leave and asks Lily to go with her, but Lily choses Jesse over Alison, her best friend, and she runs out of the door. Lily continues to meet up with an older man except this one is violent and a psychopath who overpowers the boys. When Lily gets him to the apartment, things do not go as planned. He knocks out two of Jesse's friends and Jesse runs out of the room leaving Lily with a psychopath. The man grabs Lily and throws her on the bed but he is shot in the back and the shooter is unexpectedly revealed to be Alison. She had come back to get Lily. The girls makeup after Alison left Lily and decide to head back home. On their way back Alison pulls over at the beach to enjoy their last few moments before they head back home. 
Overall I love this movie, it is one of my favorite movies. I would rate this movie a 4 out of 5. I've watched it many times. This movie is so good and one of my favorites because it is based on real life experiences of Elgin James, the director. It's is a Rated R movie that lasts 1 hour and 45 minutes.