Rise of Skywalker Ends Star Wars Trilogy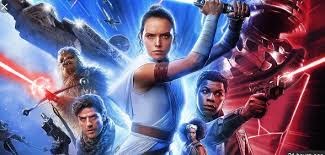 The Star Wars franchise has been making new additions to the collection, starting with the 2015 film Star Wars the Force Awakens. Two standalone films have been made since 2015 as well. A great deal of the original characters have appeared in the new films, and a bunch of new characters have made their debut and done really well in the new films.
The latest film, The Rise of Skywalker starts out with the trilogy's villain Kilo Ren on some sort of voyage. He approaches a cavern where he encounters what he was looking for. Emperor Palpatine has returned and is looking to re-initiate the Sith and regain his power. Upon hearing that there is a spy in the Order, the Resistance gets hope and sends Rey, Poe, Finn, and Chewie on a voyage to find the Sith planet Exegol, and end the war once and for all.
This film had a very large cast and there were so many characters that it would be really hard to name them all. The main cast is Daisy Ridley as Rey, John Boyega as Finn, Oscar Isaac as Poe Dameron, Carrie Fisher as Princess Leia, Adam Driver as Kilo Ren, Mark Hamill as Luke Skywalker, Billy Dee Williams as Lando Calrissian, Keri Russell as Zorii Bliss, Anthony Daniels as C-3PO, Kelly Marie Tran as Rose Tico, Ian McDiarmid as Sheev Palpatine, Joonas Suotamo as Chewbacca, Domhnall Gleeson as General Hux, Lupita Nyong'o as Maz Kanata and Greg Grunberg as Snap Wexley.
This movie was produced by Kathleen Kennedy, Michelle Rejwan, and J.J. Abrams, who also helped direct, write the story and screenplay. The screenplay was also written by Chris Terrio. The story was written by Derek Connolly, Colin Trevorrow, and Chris Terrio. This movie is based off the characters by George Lucas.
This movie had an average rating of 6.19 out of 10, and only a 54% approval rate based on 453 reviews. I for one would give it a rating of 8.5 out of 10, because of the intriguing plot, and the massive character arcs. The only reason it wouldn't be a full 10 out of 10 is because of some confusion near the end of the film.This film has ended the trilogy, but it brings up more questions than it can answer in its runtime. It is unknown if any of these characters will show up again, or even if there will be more movies added to the franchise in the future.