P.S. I Love You, An Open Letter for Viewers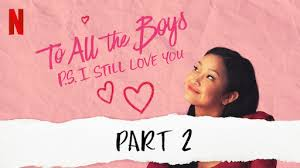 Lara Jean (Lana Condor) receives a letter in the mail from her childhood best friend, John Ambrose (Jordan Fisher) and decides that she doesn't want to write him back because she can't think of anything good to say. She tells her boyfriend Peter (Noah Centineo) and she tells him that she's not going to write him back and she doesn't, but John ends up volunteering at the same place as Lara Jean. While Lara Jean and Peter are dating, John asks about him and she doesn't tell him anything about it until they have a party at their old treehouse when Peter's ex girlfriend showed up and John said something. At the tree house, they dig up their time capsule and take their things out of it and start to clean up when John offers to stay and help Lara Jean and Peter tells him that they are dating and that he can handle helping her clean up. A couple days later, Lara Jean stood outside waiting for Peter to walk by with his lacrosse team to get on the bus to go to their game, but he wasn't with them. Then her friend Chris came up to her and showed her a picture of Peter and his ex girlfriend hugging and then Peter came running up to Lara Jean. She confronted him about him being with his ex and he admitted it and they argued about how he always chooses Gen and that she was never being picked. She then proceeded to tell him that they shouldn't be together and so they broke up and he left with his lacrosse friends to go to the game. A couple days went by and she showed up to Belleview for a dance that her and John put together and as they were dancing, she told him about how her and Peter broke up. He then asked her if she wanted to step outside for a breath of air and so they did and then ended up playing in the snow and kissed. After they kissed, she decided that John was wrong for her and Peter was the one she really wanted to be with. She left John and went back inside to tell one of the residents that she was leaving to try to get Peter back. She then started leaving and got outside when Peter was walking up and he had come to get her because he remembered her telling him that she didn't like to drive in the snow. They got back together and the movie ended with them looking at their old treehouse in the neighbors yard.
I would rate this movie a 10/10 and I would definitely recommend this movie to anyone. The director for this movie is Michael Fimognari. The movie came out on February 12th, 2020.