All the Bright Places One Interesting Ride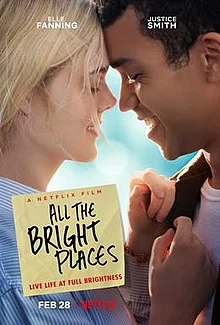 All the Bright Places is based on Jennifer Niven's international best selling novel. Violet Markey, a young girl grieving the loss of her sister finds it difficult to accept the tragic loss. Violet finds herself at the edge of the same bridge her sister's tragic car accident took place. Theodore Finch, a troubled boy who wanted to just "stay awake" ran every morning to help cope with what he was going through. He no longer wanted to be the "freak" of the school. Violet and Finch, as they called him, met the day Violet was standing on the edge of the bridge. They were assigned a project in school in which they had to find two places in Indiana that had an importance. After a while of trying Finch managed to convince Violet to do the project with him. They spend so much time together Finch gets Violet to ride in a car again after avoiding them since her sisters loss. After some time Finch's problems begin to worsen.

All the Bright Places is rated NR. The movie's genre is drama and romance. All the Bright Places is directed by Brett Haley and runs 107 minutes. The movie is on Netflix. The characters consist of Elle Fanning, Justice Smith, Alexandra Shipp, Keegan Micheal Key, Luke Wilson, Kelli O'Hara, Felix Mallard, Virginia Gardner, Lamar Johnson, and Sofia Hasmik.

About 77% of people on Rotten Tomatoes have said they loved the movie, which is a high rating.. I personally loved the movie. I loved that Finch helped Violet overcome her loss and helped her with so much. The ending was the hardest part to watch. I would give the movie a 5 star rating because it was a great perspective of a teens struggles.