Despicable Me 3 Third Best in the Franchise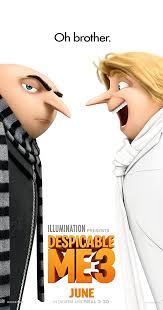 Despicable Me 3 Was released on June 29th, 2017 starring the voices of
Steve Carell, Kristen Wiig, Trey Parker, Miranda Cosgrove, Dana Gaier, Julie Andrews, Jenny
Slate, Nev Scharrel, Steve Coogan, Andy Nyman, Micheal Beattie

The full length animation was directed by Director: Pierre Coffin, Kyle Balda

The mischievous Minions hope that Gru will return to a life of crime after
the new boss of the Anti-Villain League fires him. Instead, Gru decides to remain retired and
travel to Freedonia to meet his long-lost twin brother for the first time. The reunited siblings soon
find themselves in an uneasy alliance to take down the elusive Balthazar Bratt, a former 1980s
child star who seeks revenge against the world.

Rotten Tomatoes said The third Despicable Me film chronologically is also the third-best in terms of quality. But it has just enough energy and flashes of inspiration to suggest it's a franchise that could run and run.

My review on this movie after reading several, I believe that this is a good movie to
just sit down with family and friends to have a good laugh. Besides this movie, there are two
others that go along with it and it might make sense to watch them in order.
The movie is a good movie because it is just very entertaining to watch.